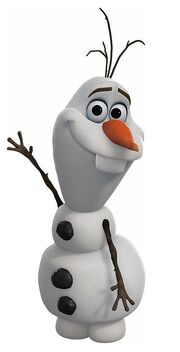 Olaf is a comical snowman in the 2013 Disney film frozen, he is voiced by Josh Gad.
We first see him when Anna and Elsa are children as they build a snowman and Elsa names it Olaf.Later when shes an adult Elsa brings Olaf to life but she doesn't know that.Later when Anna and Kristoff are on a quest to find Elsa they meet Olaf and he joins them. He loves Summer.
==Section heading
Olaf

appearances

Frozen

voce

Josh Gad
==
Write the second section of your page here.